A new service which includes all services you need for your daily life in Japan!
Life Support App
Chat and Calls available

24h

reception
Medical Interpretation

OK
SIM with phone number
High-speed SIM

that also supports

hight speed SIM

Data Communication

​

+Voice call

Available
3 Convenient Insurance Coverage
Accidental Hospitalization/Surgery Insurance Coverage

5,000 YEN

(Up to 90days)
日常生活賠償責任補償 

up to 50,000,000 yen

​
傷害死亡・後遺障害補償 

300,000 yen
Great for People Like...
Want to live safely in Japan
using an All-in-one Package
Need a phone number/ SMS function
​
Need high-speed 5G Internet
ほしい方

GTN Assistants is an app service
that supports your daily life.
01

Can easily contact us via Chat for help

02

Ask for interpretation in different situations

03

Medical interpretation is also available

04

Get various discount coupons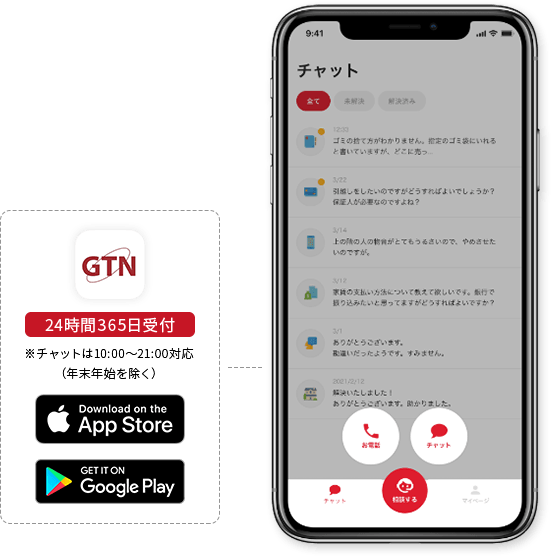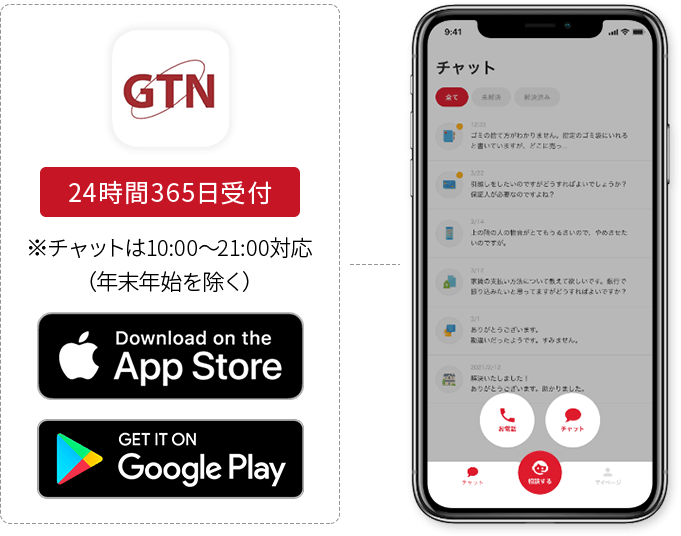 POINT 01
Support available in 19 languages*App available in 6 languages
English Speaking Staff

Chinese

韓国語

台湾華語

タガログ語

Vietnamese Speaking Staff

タイ語

モンゴル語

ネパール語

ミャンマー語

インドネシア語

ヒンディー語

ポルトガル語

スペイン語

シンハラ語

ウルドゥー語

ベンガル語

フランス語

Japanese Speaking Staff
POINT 02
365 days, 24/7 support with GTN Assistants!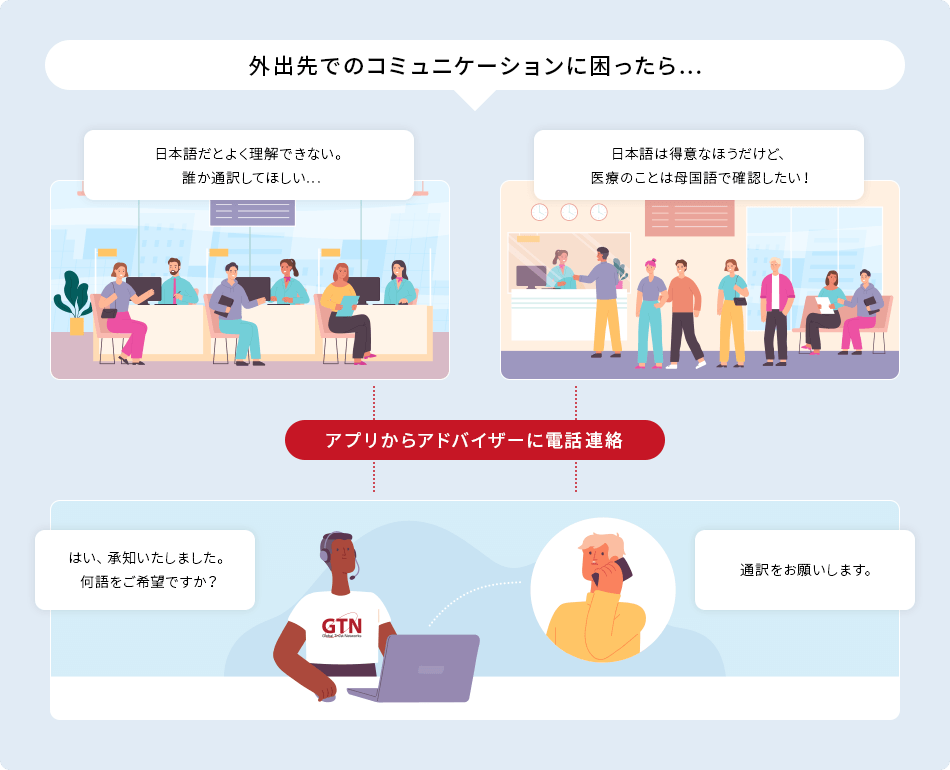 21:00~翌朝10:00は医療通訳対応時間外となります。
21:00~翌朝10:00は英語・中国語・韓国語・タガログ語・ベトナム語・フランス語・モンゴル語・ネパール語・ミャンマー語・インドネシア語・ポルトガル語・スペイン語・タイ語のみの対応となります。
POINT 03
Easily consult with
GTN Assistant Chat!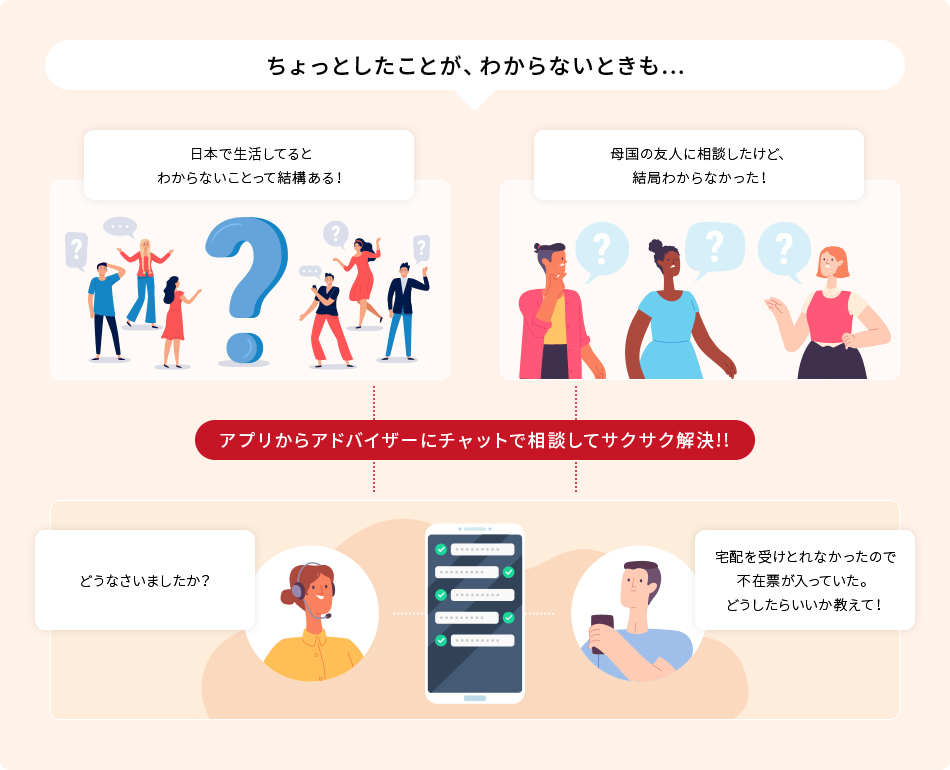 POINT 04
EVEN MORE!
Get various coupons and useful information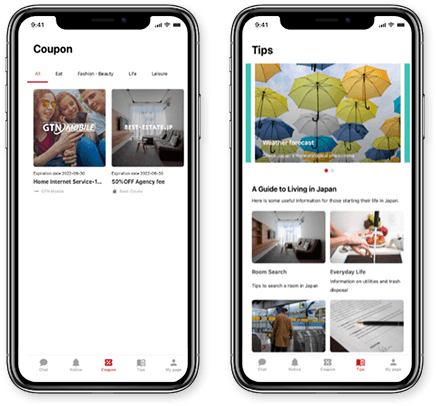 Weather forecast, disaster information
Latest news
Over-the-counter medicine
Hospital search
GTN articles
For information about the terms of service, CLICK HERE​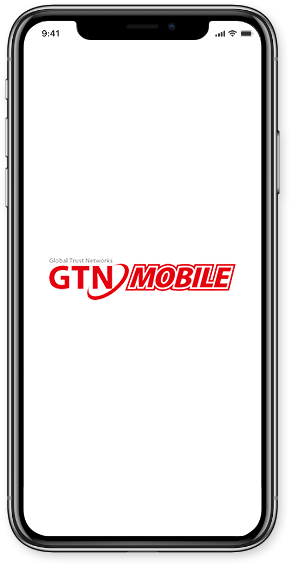 Use the SIM card provided by
GTN Mobile - specialized services for foreigners.
For foreigners, there are many challenging aspects when it comes to signing a mobile phone contract in Japan.
For example, when signing a contract
Payment method only has
Credit Card
or Bank auto-deduction
Staying period
has to be longer
than 26 months
The contract holder
must be fluent
in Japanese.
There are such criterias.
But, with GTN Care,
almost all
foreigners
can easily use high-quality mobile services!
Monthly fee of GTN Care
3,980 yen
Data Amount

10GB

/ month ( Uprage to 20GB plan
with only 1,000 yen extra)
Call Rate
Domestic call rate is 27,5 yen (tax included)/ 30 seconds.
Initial Administrative Fee
3,300 yen
Additional Data
550 yen/ 1GB
SMS Charges
3,3 yen/ Domestic SMS, 100 yen/ International SMS
Data Communication System
5G/4G
Approximate Maximum Speed when Data Capacity exceeded
300Kbps
Universal Fee
Included in
GTN Care's monthly fee
* The prices shown are tax included.

For customers who have subscribed to GTN Care
we have signed an injury compensation contract with an insurance company.
You will automatically be covered by the compensation.
Living in an unfamiliar culture or place can lead to unexpectedly difficult situations.
If you are subscribed to GTN Care,
you can cover your risks with compensation in such situations.
GTN will support you
even in troubles in your daily life in Japan.
Compensation ①
Injury Hospitalization/Surgery Compensation
If you are hospitalized due to an injury
Compensation fee
:5,000 yen / day(up to 90 days)
【Compensation details】

If you are hospitalized due to an accidental injury
during the compensation period (injury hospitalization)


5,000 yen × the number of days of hospitalization for injury (up to 90 days)

For treatment of injuries caused by accidents during the insurance period,
From the day of the accident, including that day​ ​​ ​
If you have undergone surgery (*) within 90 days
(1) Surgery while hospitalized: 50,000 yen

/


(2) Surgery other than (1): 25,000 yen
Compensation ②
Liability compensation
in everyday life
In everyday life、
When the insured party (= service user)
is held liable for damages due to their own fault
Compensation fee
:Up to 50,000,000 yen
【Compensation details】

The amount of the legal liability for damages
borne by the insured
to the party entitled to claim damages for inhibition
+
The court costs ordered to be paid
by the ruling or the cost of delay until the date of the ruling
+
The amount of the legal liability for damages
if any,
acquired by the insured as a result of the payment of damages
to the party entitled to claim damages.
Note) up to 50 million yen
CASE 01

Hit someone else's car
while commuting to school by bicycle.
Compensation:around 500,000 yen
CASE 02

Hit a passenger and injured their leg
When pulling a suitcase inside the station,
Compensation: around 1,030,000 yen
(Judgment of the Tokyo District Court on April 24, 2015)
Compensation ③
Accidental Death and Permanent Disability Compensation
In case of death or permanent disability
due to injury
Compensation fee
:300,000 yen
【Compensation details】

If you are hospitalized due to an accidental injury
From the day of the accident, including that day​ ​​ ​
and pass away within 180 days.


300,000 yen

If you are hospitalized due to an accidental injury
From the day of the accident, including that day​ ​​ ​
, a residual disability occurs within 180 days


300,000 yen × Insurance claim payment ratio prescribed in the contract